[Update: I've wrongly been calling extensions "plugins". So this post is actually talking about extensions, not plugins.]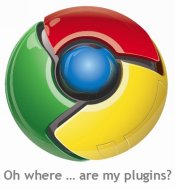 Lately I've been browsing with Google Chrome.
It looks and works great, and it's quick. But it doesn't have plugins.
One of the few plugins I can hardly do without is the Blank Canvas Gmail Signatures add-on. Gmail doesn't allow a signature per email address, which is a pity, but this add-on handles that nicely. It also allows you to use HTML in your signatures.
Anyway, while cycling to work the other day I thought of an idea for a plugin system that would work in all browsers. My idea was a web proxy running on your local machine that injects HTML or JavaScript into pages from certain URLs, Greasemonkey-style. With some clever regex-matching and JavaScript injection you could do just about whatever you needed.
But of course – a deflated ego later – similar things have already been done. :-)
Privoxy
First, I searched for "browser-agnostic plugin manager" and discovered Privoxy. It's geared for privacy and blocking ads, but it can do content replacement based on regexes. For instance, there's a built-in filter called tiny-textforms that makes your <textarea>s bigger, a bit like this Firefox plugin.
Privoxy looks good and is pretty complete, but it's not really geared for plugins (though one of the Privoxy developers mentioned you could probably do Greasemonkey-like stuff with it). Also, Privoxy's got a pretty nerdy configuration interface that just wouldn't cut it for normal plugin users.
Proxomitron, Proximodo and BFilter
Proxomitron, Proximodo and BFilter are three similar web proxy filters that might well do the job. Again, they're mainly used for blocking ads, and their GUIs aren't really set up as "plugin managers", so I'm not sure they'd work for ordinary users.
Plugins in Chrome
Google is talking seriously about extension support in Chrome – perhaps it'll happen in the next few months.
Stop press! Apparently Chromium already supports user scripts – again, Greasemonkey-style) – but only in the latest developer builds.
Greasemetal
In the meantime, there's also Greasemetal, which is a Greasemonkey-compatible tool that uses Chrome's inter-process AutomationProxy communications channel. So it's not browser-agnostic, but good work Kazuho Oku! I'll probably start using this if Chrome doesn't hurry up with their extension interface.
But what about browser-agnostic?
But back to browser-agnostic. Imagine if all your favourite plugins or Greasemonkey scripts worked in IE, Firefox, Safari, Opera, Chrome, and Lynx.
I don't think it would take too much hacking to package up Privoxy as a plugin manager with a decent UI, or perhaps turn it into a browser-agnostic version of Greasemonkey.
Any takers, hackers?
Or maybe I'll get around to it someday. I've got a name for my plugin manager already: Proxymoron.
13 March 2009 by Ben 16 comments
16 comments (oldest first)
Add a comment