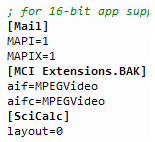 All I was after was a simple .INI file reader in C or C++. You know, to parse [section] and name=value lines for config files. We needed it for an embedded Linux project, so it had to be small, portable and only dependent on the C and C++ standard libraries.
Maybe it's my embedded background that makes me defensive about my mild case of Not-Invented-Here syndrome. Then again, perhaps I'm in good company.
But surely there are tons of INI parsing libraries around, right? Well, kind of.
I found no fewer than 15 in under an hour. But why is it that things like this are either way off the mark (bloated or non-portable) or they're very close, but just not quite what you want?
Below is the list of INI file readers that I found, from bad to better. Some of the ones that weren't for me might well suit your application, so treat this as something of a non-exhaustive list of INI file readers:
Not for me
Half way there
So very close
minIni by CompuPhase: So very close, does just what you want (also writes INI files), and in only 17KB of portable C source, great for embedded systems … but re-reading the INI file for every name=value pair you need somehow just doesn't sit right.
CDataFile by Gary McNickle: This one looks decent — small, C++, uses the STL instead of MFC or its own fancy dictionary type … I probably would have used this had I seen it sooner.
libinifile by Anders Lövgren: This one's quite good too. Minimal, portable, low memory footprint, but a slightly unusual API (partly to give it the low memory footprint). I might well have used this one too, had I found it sooner.
libini by Simon White: Plain C, SWIGgable, fairly small, though has a bit of an odd API (and I'm struggling to see why a simple INI file reader needs a 665KB configuration script :-).
iniParser by Nicolas Devillard: This is the one we ended up using. Small (about 32KB of source) and fast. The only minor drawback is that it implements its own dictionary type in C, and we're using the STL which already has one. (Still, in C, what else can you do?) Also, it looks like it's been around forever and is well tested.
INI Not Invented Here (INIH)
Of course, in the time it took to investigate all these, I could have easily written my own. And, being unable to help myself, I did. :-) So I present you with my own offering: INI Not Invented Here, a.k.a. INIH or simply ini.h.
It contains a small C function, ini_parse(), that parses an INI file and executes the given callback function for each name=value pair parsed (think SAX).
The reason I used the callback style is so you don't have to load the whole file into memory if you don't need to — good for embedded systems. Plus, I wanted to be able to use the parser easily in C, but not implement a dictionary-like structure in C.
For a more user-friendly, lookup style API if you're using C++, I've wrapped ini_parse() in a class called INIReader, which has Get() and GetInteger() methods (all I needed). And it's easy to sub-class INIReader if you need fancier GetXYZ() functions.
Show us the code
UPDATE: I've moved the code from here to its own Google Code project at http://code.google.com/p/inih/ — enjoy!
26 February 2009 by Ben 44 comments
44 comments and pings (oldest first)
Add a comment