I've always been curious about fonts. Well, about typefaces, really. Strictly speaking, a font is an instance of a typeface with a particular size and style. In a programming language, you might say it this way:
    helvetica_10pt_bold = Helvetica(10, bold=True)

Helvetica is the typeface. "Helvetica 10pt bold" is the font.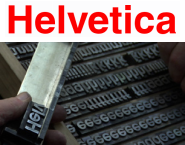 Yes, I admit to having been an amateur typophile for a while now. It probably started with Donald Knuth, and me poring over his books in the Canterbury University library between lectures, just basking in pure letter shape.
Anyway, Helvetica is no longer just a Swiss typeface. It's now also a feature-length documentary about the typeface and about graphic design in general.
It runs for 80 minutes, and it interviews a number of top type designers. Still, it's certainly interesting for a general audience. My wife prepared herself to be bored, but actually found it quite compelling.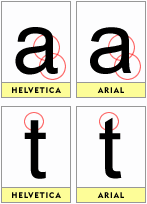 Another interesting thing is the Helvetica vs Arial debate (if you can call it a debate). Arial is pretty much a cheap clone of Helvetica, designed by Microsoft so they didn't have to pay Linotype's licensing fees. I don't have to try too hard to believe that.
The differences between the two typefaces are very subtle, but interesting. Check out the differences in the 'a' and the 't' in the image to the right. Mark Simonson has more on this.
Anti-Microsofting aside, I do prefer the font handling in Windows XP over anything else I've seen. It's just so clear and sharp. Linux still doesn't have it together. And even Mac OS's fonts aren't that great — Apple seems to be pretending we've already all got 300dpi displays.
So check out Helvetica, the film. I think you'll enjoy it, typophile or not. At the least, it'll make you do a double-take at every other sign and billboard — "Hey, is that Helvetica?"
15 September 2008 by Ben 3 comments
3 comments (oldest first)
Add a comment