Truism of the decade: spam is evil. I'm pessimistic enough to believe we'll always have it with us. But here's our two cents worth: use JavaScript onmouseover to set your mailto links. Like so:
<a onmouseover='e="info"+String.fromCharCode(64)+ "micropledge.com"; this.href="mai"+"lto:"+e; this.firstChild.nodeValue=e;' href=''>Email us</a>
Try it: email microPledge.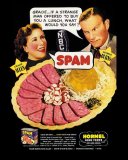 It's not particularly new or original, and it's not fool-proof by any means, but the stats are good. After we implemented it at Brush Technology, we noticed a significant drop in spam volume. My brother Berwyn's went down to 1/4 of what it was, and he says it's still dropping. (I get a fair bit of spam from some unprotected addresses, though almost none from onmouseovered ones.)
All this says two (good) things to me:
Current spambots are dumb.
Spammers mainly spam addresses they've harvested recently.
I like users to see our address, so this code also sets the nodeValue inside the anchor, but you could leave that out if you wanted. You'll see in our sidebar email link we've set the href to a fall-back page that tells users what to do if they've got JavaScript off. We also set the title to something useful. If you're feeling friendly to keyboard users, I imagine you can set onfocus too.
That reminds me, anyone know what percentage of users turn JavaScript off? (And what kind of users?) I've heard 10%, but I reckon that these days it'd be less than 1%. JavaScript is almost required with today's web. And I don't think that's a bad thing — I love Gmail and other JS-heavy apps.
11 June 2007 by Ben 6 comments
6 comments (oldest first)
Add a comment