I learnt to program for fun at home, and my theory is that this is the best way to learn. I started in seriously when I was about 14 (I couldn't quite grasp the concepts before then), and began by learning 80x86 assembly language and Forth. I tried to learn C, but for some reason I grokked assembly more quickly. Plus, assembly made it easy to play with the VGA hardware and write cool graphics demos. The joy of the art was setting in.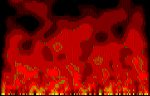 Mostly my dad taught me, though I also learnt a lot from reading FidoNet groups and from Demoscene coders. After playing with graphics stuff and coding the first 50 lines of about five different games that were going to "change the face of computer gaming", my first serious project was to write a Forth compiler. I bootstrapped it by writing the core in assembly, then the rest in Forth.
Speaking of which, I really rate learning Forth. It's probably the earliest language apart from Lisp which is extensible at the language level and has real macros. But it's much simpler than Lisp. The only problem is that it's so easy to write your own Forth compiler that everyone does that instead of writing good libraries or language extensions.
All that said, here at microPledge we're using Python, and loving it. It's brilliant for web apps — a clean language with superb libraries.
Anyway, how did you learn to program, and what was your first language?
5 June 2007 by Ben 9 comments
9 comments and pings (oldest first)
Add a comment